One of the hottest debates of all time is the topic of "low-carb vs. low-fat diets."  Some people argue that eating fatty foods is one of the leading causes of most of the health problems today.  For instance, heart disease complications have been attributed to high-fat diets.  Mostly, mainstream health organizations perpetuate this notion.  They encourage people to eat a diet that is fat restrictive. More specifically, limit fats to 30% of the total calories.
Even so, in the past decade, many health professionals have challenged the effectiveness of a low-fat diet. They have conducted studies on low-carb diets, and they now believe these diets are more effective for weight loss than low-fat diets.
A low carbohydrate diet is high in both fat and protein.  Health professionals now believe that diseases like obesity and diabetes can be managed by following a low carb diet. They have been doing a lot of research on this subject, and here are a few of their findings:
Reducing carbohydrates in diets 
Various scientific studies have shown that low-carb diets work better when it comes to weight loss.
For instance, a study by Foster GD, et al. suggests low-carb diets are more effective for weight loss compared to low-fat diets.  The study was published in New England Journal Of Medicine in 2003.
In this particular study, the researchers carried out a trial experiment determine the effect of low carbohydrates on obesity.  The study included 63 participants who were randomized into two separate groups – a low-fat diet group and a low-carb diet. The experiment lasted for 12 months.
By the end of the experiment, participants on low-carb diet had lost a total body weight of 7.3%.  The low-fat group only lost 4.5%.  During the experiment, there was a statistical difference during the third and sixth months.  However, there was no statistical difference in the 12th month.
In yet another report, the findings seem to support low-carb diets. A journal from the Lancet Diabetes and Endocrinology analyzed results from 53 long-term studies.  The analysts considered studies conducted as early as 1960, and involved at least 68,000 people.  The analysis showed there was robust evidence to suggest that low-fat diets are not as effective for weight loss as low-carbohydrate diets.  Many people lost weight for a sustained period of six months.  From that point, some people stopped losing weight.  Individuals who gave up dieting even started regaining weight.
Research funded by the National Institute of Health and the American Diabetes Association was also in support of low-carb diets. In their trial experiment, people who followed a low-carb diet lost an average of 8 lbs in one year.  The low-carb dieters lost an average of 2.2 lbs more than individuals who were on low-fat diets.
Furthermore, the researchers reported that given a long-time, such as one year, no particular diet was effective.
Reducing fat in diets    
One of the benefits of low-fat diets is that cutting your intake of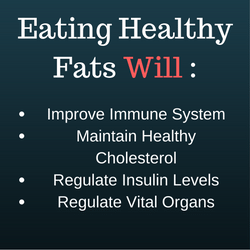 fats can help you lose more calories compared to eating fewer carbohydrates.  While there are four calories in every gram of carbohydrate, a gram of fat has nine.
In a study conducted by Guldbrand et al. in 2012, they established that low-fat dieters lost more weight than low-carb dieters.  They carried out a randomized experiment on 61 individuals with type 2 diabetes.  For two years, the patients took calorie restricted diets, which were either low-carb or low-fat.
People on a low-carb diet lost 3.1kgs (6.8 lbs). For people on low-fat, their weight dropped by 3.6kgs (7.9 lbs).  Statistically, the difference was not significant.
Pam Bede, a dietician with the Abbott's EAS Sports Nutrition, says that a low-fat diet is good for people interested in eating diverse types of foods, but in moderation.   Bede adds that a low-fat diet would include whole grains, vegetables, fruits and proteins, such as fish and lean meat. Bede is a registered and board-certified nutritionist with Abbotts EAS Sports Nutrition.
Still, Bede stresses the importance of consuming fats. Healthy fats are essential to our bodies.  According to Bede, healthy fats help in:
Keeping our immune system in check.
Regulating of vital organs.
Maintaining healthy cholesterol levels.
Regulating insulin levels.
Bede recommends that we take not less than 26 grams of fat (unsaturated) every day.
Deciding on the diet to follow
From the various studies conducted in the past, it is evident each diet has an effect on weight loss.  The Journal of the American Medical Association published a report that analyzed 59 studies on the issue of low-carb and low-fat diets.  The report indicated that both diets made people lose weight significantly.
Still, people on low-carb diet shed a few more pounds than low-fat dieters.  Researchers concluded the difference was not significant. When deciding on the diet to follow, it is best to choose the one in line with your lifestyle.
We are living in the age on information. As you search for information online, you will come across many medical journals. Some resources will be pro low-carb while others will be pro low-fat. When making your decision, choose the diet that best suits your lifestyle.