Ok so you say a low carb diet is too restrictive.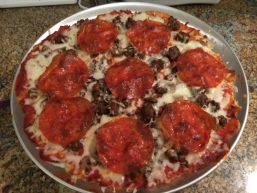 You say you can only eat chicken or steak for so many days
You say you are sick of eating a salad for lunch every day.
Well, if you are telling yourself this, you are not really exploring or enjoying your low carb diet!   I got this recipe from Your Lighter Side
My pizza had a slightly higher carb count because I added mushrooms!



Chicken Crust Pizza
This pizza was AWESOME! But make sure your pizza pan is larger than a Medium pan! It says its for a 12 – 14 inch pizza, but I think it can easily be a 16 or even 18 inch. But I'm a fan of thin pizza.
Anyway since my pan was a 12 inch the crust was thicker than I like. But still REALLY GOOD.
Yields: 12 - 14 inch pizza or bigger if you like a thinner crust
1 packed cup cooked, minced chicken breast
1 cup packed mozzarella, shredded
1 Tbsp parsley, dried
1 tsp basil
1/2 tsp onion powder
1/2 tsp garlic powder
Preheat oven to 425 degrees Fahrenheit.
Process chicken and cheese together. Mixture will resemble a meal/thick, dense crumb consistency.
Press chicken/cheese mixture on parchment paper on a cookie sheet.
Top with parsley, basil, onion and garlic powder.
Bake for 12 minutes.
Let cool for five minutes.
Top with sauce, cheese, and then toppings.
Bake for 6-8 minutes more, or until toppings are melted.
Let cool for five minutes.
Slice and serve.
Nutrition
Calories:

180

Fat:

11 grams

Carbs:

1.6 net grams

Protein:

17.3 grams