In the mood for something tasty, moist and sweet?
These low carb spice cakes are SINFULLY delicious! I took them with me on a long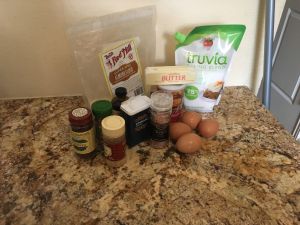 business trip. The hotel I was staying at would serve breakfast but I wanted to stay low carb. So I had one of these along with either their breakfast sausage or bacon. Then a cup of tea with my Keto OS and I was good to go!
I was really surprised by how well these traveled!  8 days on the road and they kept moist just by being in a zip lock bag!
They also helped kill my craving to raid the mini bar.  Since I made these for traveling.  I didn't make a cream cheese frosting to go on top.  But if I had, I don't think I could have stopped at just one!
Here are the macros according to myfitness pal.
One Low Carb Spice Cake Muffin has:
Calories: 201,  Fat: 18.8 ,  Carbs 5.4  , Protein 6.2
Low Carb Icing
If you want to really kick this up a notch, add icing.  You will feel like you are CHEATING on your low carb diet!  But thankfully you won't be!  There are a LOT of great recipes online for low carb icing.    My favorites have cream cheese in them.  Makes me remember all the red velvet cupcakes I used to eat!
My cousin loved this so much he is going to replace his rum cake recipe with this!  The glaze he will use will be the same one he uses on his regular rum cake since rum has no carbs.
But whether you decide to add frosting or not.  Try this recipe out!  It's something your whole family will enjoy, even if they are not following a low carb diet!  Low Carb Spice Cake Recipe