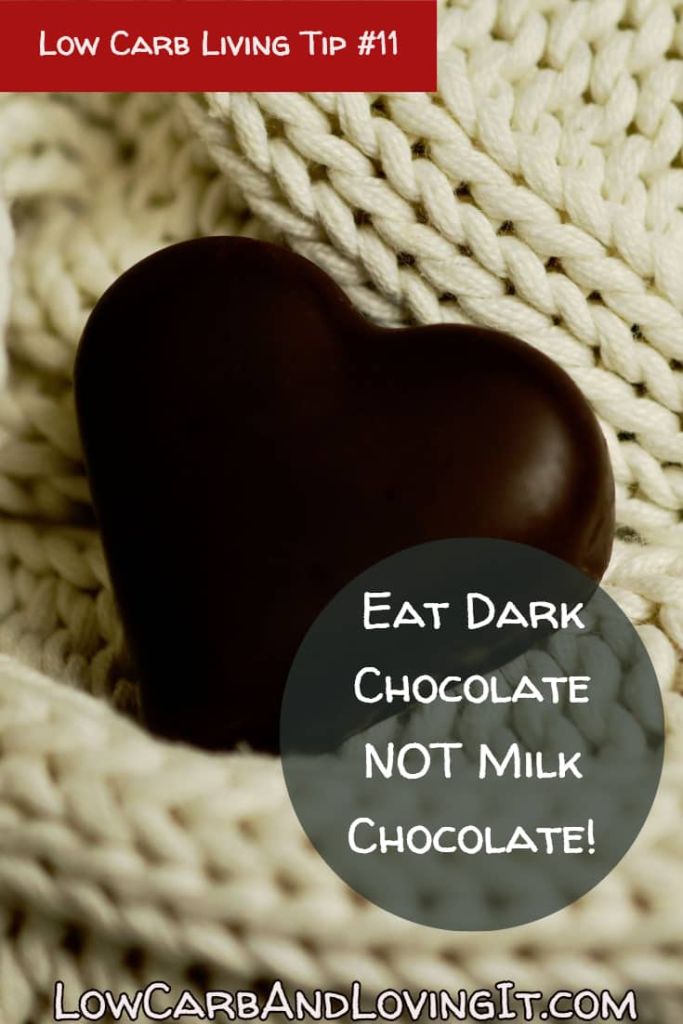 Got a sweet tooth? You don't have to give up all sweets when you start on a low carb diet! You can still have dark chocolate! It's not as sweet as milk chocolate, but not only is is lower in carbs, but there are a lot of health benefits to eating dark chocolate!
The health benefits of dark chocolate
It's believed to aid in the prevention of cancer – According to the American Cancer Institute "Given chocolate's rich supply of flavonoids, researchers have also investigated whether it may play a role in cancer prevention. The studies in cancer prevention are still emerging. "
Good for cholesterol
Good for blood sugar
Good for blood pressure
Is an anti-oxidant rich super food
Good for the heart – According to the  Cleveland Clinic.  Dark chocolate contains a high amount of flavanols.  Their research has shown that flavanols have a positive effect on the heart by helping to lower blood pressure &  improving blood flow to the heart and brain.
As a rule of thumb, the more cacao in the chocolate the lower the carb count.  That is why so many low carb bakers use dark chocolate in their recipes.
Dark chocolate also tends to have a higher fiber count.
Dark chocolate's cocoa has a large number of polyphenols and flavonoids, more so than even wine or tea.
So the higher the cacao percentage (you want over 70%) the more antioxidants it will have.
What to look for when buying dark chocolate
a cacao content of at least 70% – the higher the percentage the better!
It should be made of cocoa butter and not palm or coconut oils
You want dark chocolate that is organic and hasn't been processed
If you are diabetic, you want to make sure your dark chocolate is sweetened by stevia or another alternative sugar substitute.