One of the most frequent questions I get is, "How much fat should one eat to stay in ketosis?" The answer isn't simple. Staying in ketosis depends on many factors. But the best way to make sure you stay in ketosis is to make sure your diet consists of 60-75% healthy fats.
Healthy Fats and Ketosis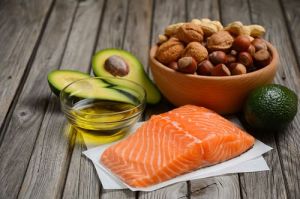 Some fats are more healthy than others!  Healthy fats are essential for the human body. They represent a great deal of energy especially when the body is no longer using carbohydrates for energy.
Healthy fats, are basically unsaturated fats. They are divided into 2 groups: the monounsaturated fats and polyunsaturated fats (including omega-3 fatty acids).
Monounsaturated and Polyunsaturated fats are commonly found in:
vegetable oils,
soybeans,
fish,
seeds, and nuts.
The foods rich in omega-3 fatty acids are:
fish (mackerel, salmon, and sardines),
Chia seeds,
avocado and/or avocado oil,
olive oil and many more.
How does this put you into ketosis?
When the body requires an energy source after it is deprived of any other sources, such as glucose, it will start producing ketone bodies. This metabolic reaction is called Ketogenesis and Ketosis is a result of this process. Higher levels of ketone bodies in your blood or detectable ketone bodies in your urine are a definite sign you are in Ketosis.
Ketosis is sometimes referred to by low carb dieters as "fat burning'' mode since the body uses fat stored in the adipose tissue to produce ketone bodies.  This is the mode that are low carb dieters are striving for by reducing and in some cases ELIMINATING their carb intake.
How to stay in ketosis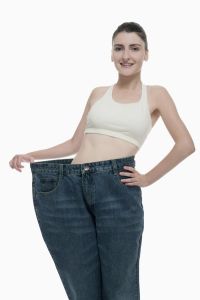 To stay in Ketosis, you need to adjust your macronutrient ratio so that your food will have 60-75% of healthy fats. For example, if your daily need of calories is 2000 kcal, then you will take 170g of fats, 90g of proteins and less than 20g of carbohydrates.
To stay in ketosis, you should also cut the following foods from your diet:
Stop eating nuts – why, many people eat TO MANY nuts and throw themselves out of ketosis
Avoid most dairy.  Almond milk and full fat whipping cream are fine.  Look on the back and make sure its low in carb
Avoid gluten
Make sure you are eating enough fat
Make sure you are not eating too much protein
Other tips to help you stay in ketosis
Track your macros!  Make sure you are getting the right amount of fat vs protien vs carbs
Use ketone test strips as a visual aid – you will feel good after testing and seeing that you are still in ketosis.   It also lets you know immediately if you fall out of ketosis, and then you can make adjustments to what you are eating
If you are exercising, use a supplement like Keto OS to give you a boost of energy before working out.  Or some people eat more carbs in what is called a "targeted ketogenic diet" in which they eat their full supply of  carbs (25 -50 grams)  right before a workout to get the energy needed to power thru their workout.  But if you do this, you can't eat any other carbs for the day.
Practice intermittent fasting.   There are many ways to do intermittent fasting. That can be a whole article in itself.   If you are interested in fasting, there are 6 major types.

Simple fast : 12 hours
Cycle fast:  16 hours 3x weekly
Strong fast: 16 – 18 hours a day
Warrior fast: 19-21 hours a day
1 day fast: 24 hours a week

Find ways to reduce your stress.  Stress hormones elevate the blood sugar in your body and can kick you out of ketosis.
Get enough sleep
Stay hydrated
Avoid becoming constipated
Do you need to count calories to stay in ketosis?
Although many people feel you don't need to count calories when you are on a low carb diet.  I've found that when I started to track my calories and daily carb intake.  The weight started to come off.   Maybe because each time I input what I ate and I saw the number of my allowed calories going down.  I was more "conscience" of what I was eating.
How to calculate your macros
There are a lot of online calculators that can help you measure how much fat you actually need to stay in Ketosis and to keep track of your calorie intake.   This is a good online keto calculator.
Supplements that put you in ketosis
When you change your diet to a low carb, it will usually take 3-6 days to get into Ketosis, depending on several factors.   But these days there are products like Keto OS that helps put you into virtually IMMEDIATE ketosis.   What happens is you mix it with water and within 59 mins, your body will be in ketosis for the next 4 – 6 hours depending on your metabolism.
Just because you use a supplement like Keto OS doesn't mean you can increase your carb intake.  A lot of people take Keto OS to increase their energy and boost their mood.
Benefits of being in ketosis beyond weight loss
A low carb diet can potentially become your best way of losing that extra stored fat in your body and apart from that it can have some benefits to your health in general. Years of scientific researchers have proven that balanced intake of healthy fats, may have protective effects on your brain and heart and even your mental health. This type of diet even has a long history of its usage as a way of treatment in kids with uncontrollable epilepsy.