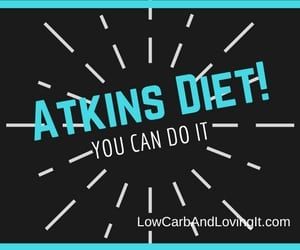 Robert C. Atkins, a cardiologist, created the Atkins diet in the year 1972. He argued that dietary fat is not what makes people overweight, carbohydrates are. By reducing carbs, most people who have tried the Atkins diet dropped considerable amounts of weight while still enjoying the foods they love.
What is the Atkins Diet?
The Atkins diet is a low-carbohydrate, high fat, and high-protein diet. It promotes itself as a long term low carb meal plan for weight loss and maintenance. Generally, this diet emphasizes fat, protein, and low-starch vegetable consumption. Simple carbohydrates like sugar and flour are highly restricted or totally eliminated altogether.
The Atkins diet eating program is divided into four phases, combined with mineral and vitamin supplements, and regular exercise.
According to Dr Atkins, there are crucial unrecognized factors present in our eating habits which cause us to gain weight fast. The main factor that makes us fat is our intake of refined carbs, especially flour, sugar, and high-fructose corn syrup.
The science behind the Atkins Diet
When you're on the Atkins diet, your body's metabolism switches to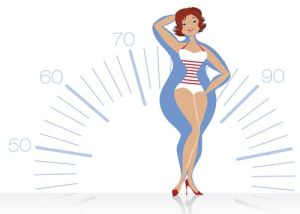 burning its stored body fat as fuel from burning glucose as fuel – this cycle is called ketosis. When the glucose levels of our body are low, our insulin levels are also low. Ketosis takes place when our body has low insulin levels. This means when the glucose levels of our bodies are low, our bodies are capable of switching to use our own stored body fat as an energy source instead of glucose.
According to the "New Diet Revolution" of Dr Atkins, a diet that is low in carbohydrates triggers an advantage to our metabolism – the body burns more calories compared to what it can do on other diets. Our body also gets rid of the unused calories during this metabolic advantage.
What are "Net" Carbs
Dr Atkins talked about Net carbs a lot. Net carbs refer to the total carbs minus sugar alcohols and fibre. Sugar alcohols have a very light effect on the sugar levels in our blood. According to Dr Atkins, the best carbs are those with a lower glycemic load. He also said that the saturated fat intake of a person should be kept to a maximum amount of twenty percent of all his consumed calories.
Dr Atkins said that for patients with metabolic syndrome or Diabetes Type 2, the Atkins diet lowers and even eliminates the need for medications.
The Atkins Diet Rules: A Four-Phase Plan
Induction
The first stage lasts for 2 weeks to make sure that you're properly in ketosis and your body has already
switched to its alternative energy source. This is where the most intense restriction of carbohydrates takes place since you should have no more than 15 to 20g carbohydrate intake per day. This level allows you to consume a daily amount of 120g of vegetable salad as well as 130g of cooked low carbohydrate vegetables like cauliflower, broccoli, green beans, courgettes, etc., plus a cup of weak coffee or tea with unsweetened soya milk if you wish.
The rest of your diet menu is made up of fish, meat, shellfish or fats and poultry (which are totally unrestricted as they are free from carbohydrate) and hard cheeses and eggs (which do contain little amount of carbohydrate, that's why you need to consume these in moderation during the Atkins diet induction phase).
During this stage, you eat until you are satisfied and should never be hungry. It's also important that you have larger water intake during this stage. There's no rule on when you should eat, except that you must avoid skipping meals, especially breakfast. This stage kick-starts your weight loss.
Ongoing weight loss/Balancing
In this stage, you gradually increase the daily allowance of your carbohydrate intake, in 5-gram increments, week by week. This WILL slow down your weight loss, but it will help you KEEP OFF the weight.
Another good thing about this phase is that you are eating a wider variety and quantity of low carb vegetables, salads,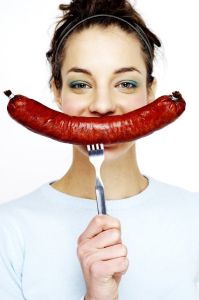 dairy products such as nuts, low carb yoghurt and berry fruits while allowing you to lose weight.
The majority of fruits, as well as certain vegetables like carrots, peas, parsnips, and onions, can be high in carbohydrate and you will need to avoid these varieties for the early weeks of this stage. Foods with high carbohydrate such as cakes, bread, pasta, rice, cereals, potatoes, pulses, jam, fruit juices, sugar, honey, etc. are strictly prohibited until the pre-maintenance stage.
Foods with sugar or flour as a minor ingredient such as frankfurters, salami, high meat content sausages/beef burgers, etc., may be used during the balancing and pre-maintenance stage as long as they're included in the daily count of your carbohydrate intake and don't throw your body out of ketosis.
How to add some food variety to this phase of the Atkins Diet
At this stage, most dieters find it helpful to try low carb ingredients which can be unfamiliar but will allow them to increase their food variety. Examples of low carb ingredients are flaxseeds or linseeds, whey protein powders (isolates) or soya, sesame seeds, nut flours like ground almonds (almond flour) as well as artificial granular sweeteners.
Depending on your tolerance, these ingredients will let you have your own low-carbohydrate versions of foods like pastry, bread, biscuits, ice cream, sauces, and cakes, which many low carb dieters say they miss the most.
The balancing or ongoing weight loss phase may last for many months especially if you want to lose a lot of weight.


Pre-Maintenance/Fine-Tuning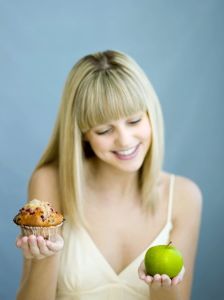 In this stage, you need to keep increasing your carbohydrate intake gradually until you find the right carbohydrate level at which your weight loss stops. From this, you will determine what certain carbohydrate level your body will be able to tolerate in the future. The pre-maintenance stage is designed to avoid sudden changes in your eating habits and a return to your usual way of eating before the Atkins diet which caused you to gain weight in the first place.
In this stage, most of your carbohydrate intake will come from nuts, nutrient-dense vegetables, and fresh fruits (if you can tolerate them). Many individuals find they cannot tolerate fresh fruits rather than berries served occasionally. However, contrary to popular belief, there's plenty of evidence that vegetables are way better than fruits at supplying fibre and essential vitamins and minerals needed in your diet.
Maintenance
You have reached the final stage of the Atkins diet.  The maintenance phase, which is when you have reached your weight loss goal and found the highest carbohydrate level at which you maintain your weight.
This is the level that you will live with.  As long as you eat within the guidelines you have learned you should not gain any weight.  If you break your maintenance routine, all you must do is return to the Atkins diet induction phase for a few days in order to start the ketosis again.
Dieters who are in maintenance stage bring back the good carbohydrates into their diet as their individual carbohydrate tolerance allows. Good carbs are fruits and vegetables, whole grains and pulses. Refined carbohydrates like sugar and white flour, and their frequent companion hydrogenated oils and fats should not be a part of your regular diet.  While you bring more variety of foods back in your diet, the percentage of fat and protein in your diet will decrease naturally from the levels seen in induction as well as ongoing weight loss stage.
What is your set point and how does it affect your weight loss
Have you ever heard people say?  Yeah, I lost a tonne of weight on the Atkins diet, but I gained it all back, plus more?  It's because they didn't stay on their maintenance phase long enough to reset their weight "set point".
It is very important that you stay at your maintenance levels at least for as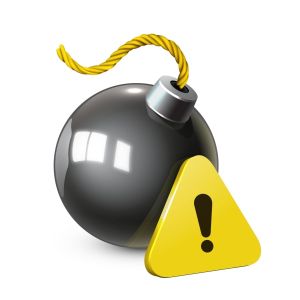 long as possible.  There is a theory that scientist has that your body has a "set point".  It has a weight that its used to and comfortable at.  If you have been overweight for a long time, your body has grown used to that weight. And when you lose weight.  Your body wants to fight to get back to the original weight.
Your bodies urge to get back to the original weight leads to yo-yo dieting.  You lose the weight and then you gain it back even faster than you took it off.  You need to stay on your maintenance diet until you have set a new "set point".  A scientist at the University of Copenhagen, lead by head researcher Signe Sorensen Torekov PhD, found that if you can maintain your weight loss for one year, your body will feel that that the new, slimmer you is the set point.
How long should you stay in each phase
While some people choose to skip the first stage altogether and include a lot of fruits and vegetables from the start, others prefer to just stick on the induction stage indefinitely without jumping on to the next phases. This is called "keto", which is a very low carbohydrate ketogenic diet.
APPROVED FOODS LIST FOR THE ATKINS DIET
 Fatty Seafood and Fish (salmon, sardines, trout, etc.)
 Meats (pork, beef, chicken, lamb, bacon)
 Eggs (the healthiest eggs are pastured or Omega-3 enriched)
 Low-Carb Vegetables (spinach, kale, asparagus, broccoli)
 Salad Vegetables (lettuce, leafy herbs, cucumber, parsley, celery, etc.)
 Nuts and Seeds (macadamia nuts, almonds, sunflower seeds, walnuts)
 Full Fat Dairy (cheese, butter, cream, full-fat yoghurt)
Healthy Fats (coconut oil, extra virgin olive oil, avocados and avocado oil)
Condiments and Spices (salad dressings, spice blends, mayo, sugar-free ketchup, mayo and soy sauce)
Sweeteners (Splenda, stevia, Equal)
RESTRICTED FOODS LIST FOR THE ATKINS DIET
Sugar (fruit juices, soft drinks, candy, cakes, ice cream, etc.)
Vegetable Oils (corn oil, soybean oil, canola oil, cottonseed oil)
Grains (spelt, wheat, barley, rye, rice)
Trans Fats (found in processed foods that have the word "hydrogenated" on the list of ingredients)
High-Carb Vegetables (turnips, carrots, etc. – during induction phase only)
Low Fat and Diet Foods (these are often high in sugar)
High-Carb fruits (oranges, apples, bananas, grapes, pears – induction phase only)
Starches (sweet potatoes, potatoes – induction phase only)
Legumes (beans, lentils, chickpeas, etc. – induction phase only)
Processed Foods (all process foods except for the Atkins own brand of packaged snacks and foods

Atkins Branded Drinks, Snacks, and Food Bars
Atkins promotes the use of their line of processed foods consisting shakes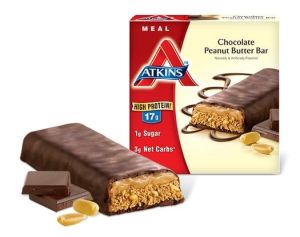 and bars. Their food line is called Atkins Advantage. Their products are available from their website or in supermarkets worldwide. You can consume their products together with a reliable Atkins meal plan like the ones listed below.
My personal favourites are the Chocolate Peanut Butter Bars.  They are YUMMY and filling!  And best of all, it's only 3 net carbs!   They make a nice treat when you are craving something sweet.
Sample Atkins Meal Plan for One Day
This is a sample meal plan for one day on the Atkins diet. It's suitable for the first stage which is the Induction phase, but you should add more high carbohydrate vegetables and fruits when moving on to the next phases of the Atkins diet.
Breakfast
2oz. sauteed onions
2 scrambled eggs
2 oz. grated cheese
Grapefruit
Morning Snack
4 oz. blackberries
Low carb Atkins bar
Lunch
Grilled chicken
4 oz. sweetcorn
Green salad with dressing
4 oz. black beans
4oz. red pepper
Afternoon Snack
2 oz. walnuts
1 medium carrot
Dinner
4 oz. mashed potatoes
Steak with flourless gravy
4 oz. zucchini
1 oz. goat cheese
Green salad with dressing
4 oz. beetroot
1 oz. goat cheese
Healthy Low-Carbohydrate Snacks
Most people feel that while on the Atkins diet, their appetite goes down. They tend to feel satisfied with three meals a day or sometimes only two. However, if you get hungry between meals, here are a few quick recommended snacks:
Leftovers from your meal plan
1-2 hard-boiled egg/s
A piece of meat
A piece of cheese
Some Greek yoghurt
A handful of nuts
Whipped cream and berries
Baby carrots (not during induction phase)
Fruits (after induction phase)
Sample Atkins Recipe You Should Try
Baked Chicken with Artichokes
Ingredients
8 skinless, boneless chicken thighs about 1 and ¼ lbs
3 tablespoons olive oil
½ teaspoon salt
¼ cup soya powder
½ teaspoon black pepper (freshly ground)
½ lbs. sliced button mushrooms
1 small chopped yellow onion – about ½ cup
½ cup dry white wine
1 and ½ tablespoons garlic, chopped
1 teaspoon chopped fresh rosemary
1 package/9 lbs. frozen artichokes (thawed and drained)
Salt to taste
¼ teaspoon red pepper flakes, crushed
1 and ½ teaspoons chopped fresh oregano
How to Cook
Preheat oven to 350F. In a shallow plate, place bake mix, pepper and salt. Coat chicken in bake mix and tap to remove excess. Heat the oil over medium heat using a large skillet. Cook chicken until it turns lightly brown, turning once in 4 minutes. Set aside in a baking dish.
Sauté the onion in the pan until softened. Add mushrooms and sauté until a lightly golden colour is achieved (takes about 3 more minutes). Next, add garlic and sauté until its aroma is released. Stir in artichokes, wine, red pepper flakes, and rosemary and bring to a simmer. The artichoke mixture should be poured over the chicken. Cover and bake for 40 minutes or until chicken is tender and fully cooked through. Season with pepper and salt to taste. Stir in oregano before serving.
37.5 grammes protein. 17.8 grammes fat, 4.9 grammes fibre, 8.6 grammes net carbs – this is a Phase 2 recipe
Conclusion
The Atkins diet is the oldest and perhaps even most popular of the low carb diets.  It's been around for a long time for one reason…..IT WORKS.