Apart from losing weight, a low-carb diet can provide you with other great benefits.  Just to mention a few, low-carb diets help with balancing the level of blood sugar and triglycerides. Also, a keto diet is effective at combating  Alzheimer, epilepsy, and fighting cancer.
While there are many benefits that come with limiting the intake of carbohydrates, it is common to experience some side effects of your low carb diet during the first few days.  However, the side effects only last for a few weeks. During this period, your body's mechanism is adapting to the new changes in diet.
Often, these short-term effects increase as you lower your carb intake.  For instance, people who consume between 100 and 150 grams of carbs every day suffer moderate effects.  On the other hand, the effects are more severe with people who are in the Induction phase of the Atkins diet which is about 20 grams of carbs a day.
Side Effects of a Low Carb Diet
1. Induction flu (keto flu)
Often, during the first few days (2-4 days) of changing to a low-carb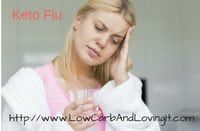 diet, you are more likely to catch the "induction flu," otherwise known as the keto flu.  This is a common side effect that many people experience.  This side effect is called so because its symptoms are flu-like.
Some common symptoms include a headache and nausea. Also, you may feel unmotivated, lethargic and tired.  Other common signs include confusion and irritability.  The symptoms come about due dehydration.  Frequent urination during this time results in loss of salts and water.
The Cure:
Taking a mixture of salt and water can help cure this symptom. Also, consider eating more fat. You are likely to be very hungry if you don't eat enough fat when on a low-carb diet.  One of the main selling points of being on a low carb diet is that you never have to be hungry!
2. Leg cramps
When on a strict low-carb diet, it is common to have legs cramps during the first few days.  If you have never had a muscle cramp, you possibly don't know how painful they are. Loss of minerals like magnesium from the body causes this side effect.  The loss of minerals is due to increased urination.
You can avoid it through several ways to avoid it:
Take enough salt and drink more fluids. This helps you avoid loss of magnesium, which causes leg cramps.
If it is necessary, you can try taking magnesium supplements.
If you implement the above results and still do not see results, consider adding more carbs to your diet. Don't forget that increasing your carbs will also DECREASE the effectiveness of your low carb diet.
3. Constipation
Another possible side effect is constipation.  You will experience constipation the first few days after going on a low-carb diet.  At this time, your digestive system will be adapting to the new eating pattern.
Here is how to cure the problem:
Take lots of water and eat enough salt. Dehydration is the primary cause of constipation.  Therefore, drinking more water and taking extra salt is a practical solution.
Eat more vegetables, make sure they have a high fiber content.
If the above does not work, try Milk of Magnesia.  This should only be a short-term solution.  There are more natural ways to help your digestive system such as teas like Smooth Move.  Some people drink kombucha tea or start taking either water or milk kefir.
4. Bad breath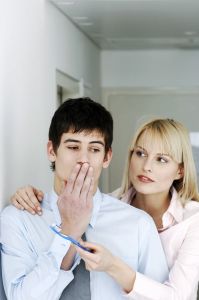 Some people tend to have bad breath when on a strict low-carb diet.  They develop a characteristic smell with a fruity flavor.  If you have ever smelled nail polish, then you get the idea.  A ketone body known as acetone releases this smell.  This smell indicates that your body is burning fat to produce ketones.
The cure to the problem:
Drink a lot of fluids and take extra salt.
Brush your teeth occasionally.
Eat breath fresheners.
If the smell persists, consider reducing the ketosis. You will have to eat more carbs per day. You will be able to get out of ketosis of by taking around 50 and 70 grams every day. Remember, by increasing your intake of carbs, the low-carb diet will have a less effect.
5. Heart palpitations
During the first few weeks, you are more likely to experience an increased heart rate.  You may feel like your heart is beating harder than normal. Again, this is caused by dehydration.
The solution to this problem is drinking enough water and taking extra salt.
6. Reduced physical activity
Expect your physical endurance to reduce once you turn to a ketogenic diet. Deficiency of fluids and salts is the cause of this side effect.  Just drink lots of fluid and take enough salt to rectify this problem.
Another reason for reduced activity could be because your body is still adapting to moving from burning sugar to burning fats. It can take some time before the body adjusts. It can be weeks or even months.  But it will happen!  And once it does, you will find you have even more energy than ever before!