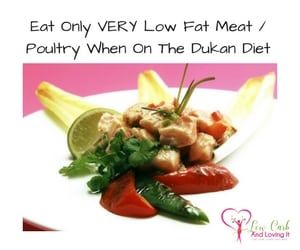 The Dukan Diet is a low carb, low fat, high-protein-based diet created by a French nutritionist and dietician, Pierre Dukan. It proposes a healthy eating structure which is primarily based on how our hunter-gatherer ancestors used to eat.
The Dukan nutritional approach includes 100 foods, of which 28 come from plants and 72 are sourced from animals. Your daily meal should come from the 100 foods only and you can eat as much for as many as you like.
Most diets help you lose weight. However, about 95 percent of dieters gain all the weight back – and even more – when they return to their previous eating habits. The Dukan diet is totally different because it redesigns your eating habits to help stabilize your weight permanently.
The Dukan diet doesn't guarantee extreme results fast. Instead, it promises that you'll be able to reach your goal weight and maintain it for the rest of your life if you follow the instructions religiously.
In order to help you lose weight and maintain it effectively, the Dukan diet has distinct 4 phases:
Phase 1 – The Dukan Diet Attack Phase (Jump-Starts Your Weight Loss)
This phase consists of pure protein diet to kick-start your weight loss. The Dukan diet attack phase food list consist 68 foods that are high in protein, which can be consumed in unlimited amount but can still produce noticeable and immediate weight loss. Protein could be all kinds of fish, beef, soy, cottage cheese and eggs. It's important that the protein you consume is low in fat.  This is a complete reversal from most low carb diets that are low carb and high fat.
You can also consume at least 1 and ½ tablespoons of oat bran. It's the only source of carbohydrate allowed at this stage. According to Pierre Dukan, oat bran contains very high fiber, which means a large proportion of carbohydrates cannot be broken down and digested. This means oat bran contains lesser carbs than they thought and it can also help suppress hunger because it grows up to 20 times its size while in the stomach.  Making you feel full.
During the attack phase, you should consume at least 1 and ½ liters (6 cups) of water every day.
The aim of the Dukan Diet Attack Phase is to lose weight rapidly – 2 to 3 kg (4.4-6.6 lbs) within 2 to 10 days.
Phase 2 – The Dukan Diet Cruise Phase (Reaches Your True Weight)
In this phase, 32 vegetables will be added to your meal plan, which will help you reach your true weight. By alternating "protein plus vegetable days" and "pure protein days", you will gradually and steadily lose weight. The average length of this stage is based on a 3-day schedule for each pound you want to eliminate.
Although based on certain personal conditions, the Cruise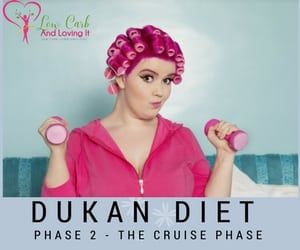 phase length generally produces 1kg or 2.2lbs weight loss per week. Therefore, if you need to lose 15 kg or 33 lbs, this stage will last 15 weeks. The cruise phase allows some tolerated foods. But, if you experience any weight gain, some of them will be restricted.
Tolerated Foods:  You can eat small amounts of these foods.  If you experience weight gain you have to cut them out again.
Low Carb Coca powder
Corn Flour (Corn Starch) or Soy Flour
Fruit Yogurts (look for low carb brands like carbmaster)
Red or white wine FOR COOKING ONLY – you have to make sure all alcohol evaporates
Custard Powder
Goji Berries
Rhubarb
Low Fat Cheese
Vegetables can be consumed as much as you like as long as they're not starchy. This means corn, peas, and carrots are out, and okra, spinach, green beans, and lettuce are okay. You can also eat unlimited amounts of foods that contain low-fat protein included in the attack phase. The oat bran and 1.5 litres of water consumption continue in this phase.
In the cruise phase, you can also alternate vegetables and protein. For example, you can eat just lean protein today, and unlimited low-starch vegetables combined with lean proteins tomorrow. This alternate method persists throughout this phase.
Phase 3 – The Dukan Diet Consolidation Phase (Prevents the Rebound Effect)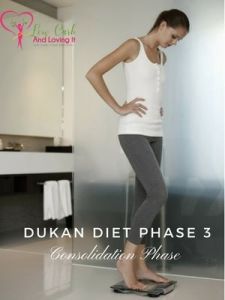 During this phase, you're at your most vulnerable since your body has a tendency to regain weight quickly. You can consume unlimited quantities of vegetables and protein daily, as well as one portion of cheese, two slices of whole grain bread, and one piece of fruit with low sugar. The goal here is to prevent the rebound effect by slowly returning previously banned foods in limited quantities and allowing you to enjoy two "celebration" meals every week where you can eat whatever you want.
The consolidation phase follows a very strict timeline – five days per every pound you lose. In this phase, Thursday is a pure protein day – this is one of the most important rules you should follow in the Consolidation phase.
Phase 4 – The Dukan Diet Stabilization Phase
The stabilization phase is followed for the rest of your life. In the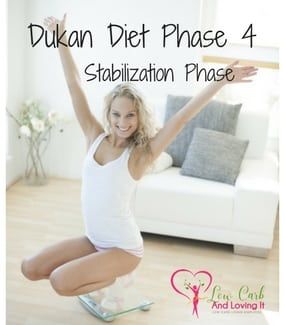 previous phases, you have learned to develop a healthier eating pattern to follow and this phase, in effect, is the plan's long-term maintenance part. You can eat whatever you want in the stabilization phase, however, in order to keep your new fit and slim body for life; you must add these 3 simple yet non-negotiable rules:
1. Walk at least 20 minutes daily. Whenever possible, choose to take the stairs. It won't only help you keep your slim body – it's good for the heart too!
2. Consume 3 tablespoons of Oat Bran daily.
3. Have a "pure protein" Thursday (one example is the Attack phase menu).
In order to succeed for the long term, you need to follow the Dukan diet stabilization phase religiously distinctively for the rest of your life. It must become a big part of your lifestyle. During this phase, you are allowed to consume vinegar, artificial sweeteners, spices, and sugar-free gum. Taking multivitamins with minerals during this phase is also recommended.
Most individuals will unfortunately start to regain their weight as soon as they achieve their goal weight. The Dukan diet creates a complete program that's not only focused on weight loss. Two out of the four phases in the Dukan diet are devoted to maintaining your new weight. The Consolidation and Stabilisation phases. Stabilization, the last phase, is the easiest but also the most crucial.
The Dukan Diet: Low carb diet of choice for celebrities! 
Various celebrities including Gisele Bundchen, Kate Middleton, and Jennifer Lopez said they have successfully used the Dukan diet. Bundchen and Lopez to recover their pre-pregnancy body weight, and the Duchess of Cambridge, Middleton, before marrying the Duke of Cambridge, Prince William.
The Dukan Diet Food List
With these 100 foods allowed on the Dukan diet, you can lose weight while eating as much as you want. According to Pierre Ducan, you can't lose weight when you are hungry. He found out in his research that these 100 allowed foods contain the essential nutrients that our bodies need, and have tremendous benefits, especially that these foods are low in fats and carbohydrates, at the same time rich in protein. During the 4 phases of the Dukan diet, you can enjoy the foods in the Dukan diet food list as much as you like: THE DUKAN DIET 100 ALLOWED FOODS
Differences between the Dukan Diet and Atkins Diet
While there are some similarities between the Atkins diet and the Dukan diet, such as they both focus on low-carb consumption, they still have some key differences:
1. Calorie and Carb Counting
Unlike in the Atkins diet, the Dukan diet has no calorie or carb counting, or any other nutritional values. In the Dukan Diet, you are limited to 100 foods, plus some additional foods in the last phase.
2. Fat Content
The Dukan diet concentrates more on low-fat protein and non-fat dairy products, while the Atkins diet has no limit on meat or dairy fats. Generally, the Atkins diet has no limits on saturated fats. According to Pierre Dukan, focusing on low fat is best for the heart.
3. Natural Foods vs. Packaged Foods
The Atkins diet has become very "commercial" and mainstream with their bars, shakes and microwavable food. This isn't a bad thing except they are not focusing on telling people they should be using those if they didn't do their meal prep and need something that won't kick them out of ketosis. The people at the Dukan diet have for the most part stayed away from those pre-packaged foods and tell their followers to focus more on natural foods. All the 100 foods listed are natural.
4. Food Quantities
In the Dukan diet, you can eat everything in unlimited amount as long as it is included in the allowed 100 foods. In the Atkins diet, on the other hand, vegetable consumption is restricted since you have to add up the carbohydrates in them and make sure you don't hit your daily carb limit.
5. A Personalized Coaching Program
In Dukan diet, there's a personalized online coaching support that monitors your progress daily. The Atkins diet has no coaching program.
The Dukan Diet Interactive Weight Loss Coaching
Pierre Dukan understands the importance of monitoring. That's why he created a new fun and interactive way of communication. Each morning, you will receive detailed instructions. Each night, you need to report about your day. In the Dukan diet, your personal needs are well taken care of basing on your daily report. Personalized advice is also provided on a daily basis.
Your Daily Report
Every night, you have to submit a report about your day using 9 criteria to evaluate your Dukan day's personal information – weight, physical activity, measurement, frustration level, motivation, as well as the foods you are missing. It only takes a minute or two to fill out a daily report.
Your Daily Instructions
Every morning, your daily instructions will be sent to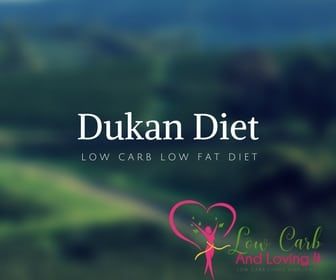 you by email. These personalized instructions for weight loss are created according to the report that you sent the day before. Your daily instructions are divided into 3 parts:
1. Motivation
Your daily motivation instructions are adjusted to fit your day to day situation (e.g. celebrating your accomplishments, helping you get back on track). They remind you what stage you are in.
2. Food
Your daily food instructions help you choose your meals by providing a selection of menus according to your taste. You will also find a lot of food tips.
3. Exercise
Your daily exercise instructions show you optional and mandatory progressive exercises adjusted to your own fitness level.